I was asked for a map showing where we went on our Costa Rica trip. I aim to please! Rather than add it to one of the other posts, I'll do a separate post for it.
I used Google Maps and had it show the routes. Here is the map (click on it for a larger view):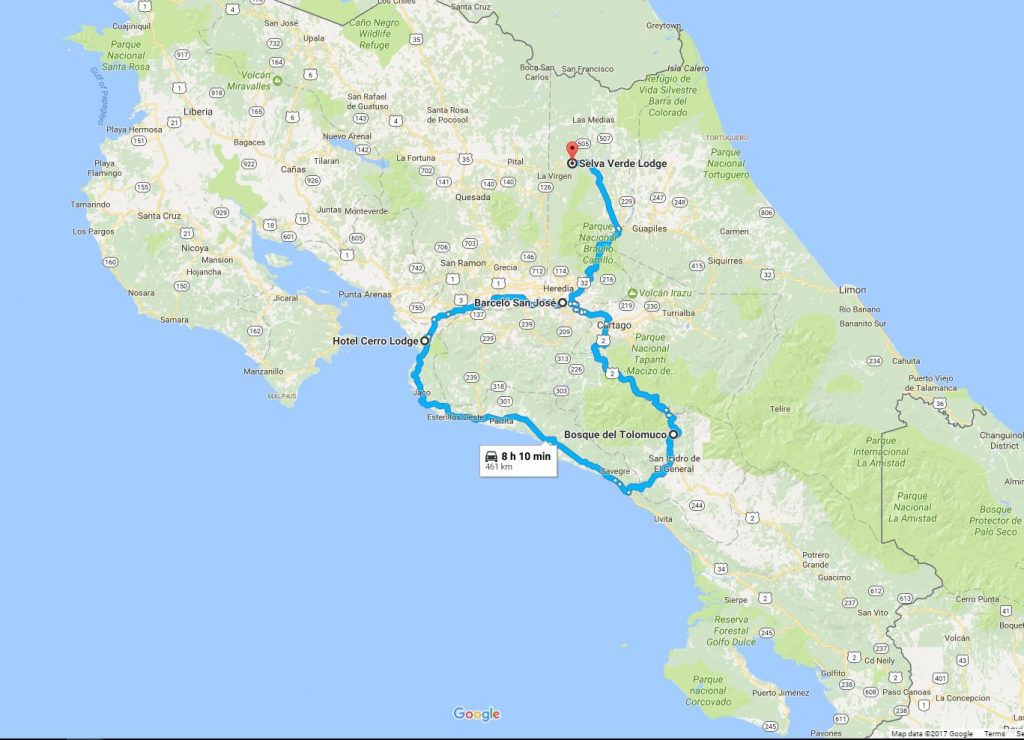 The day we arrived we stayed in San José the at the Barceló Palacio San José. The next morning we went to Cerro Lodge near the Pacific Coast (link is here, ebird.org link here), about a 1.1 hour drive. There is great birding around the lodge. Also, it is near Carara National Park, the Tárcoles River, lots of nice beaches. We stayed at Cerro Lodge for 2 nights.
Next we went to Bosque del Tolomuco Bed and Breakfast (link is here, ebird.org link here), which was about a 3 hour drive. It is in the mountains about 6000 ft, and close to the highest point in Costa Rica (Cerro del Muerto aka 'mountain of death', which is 11,300 ft). Again, the lodge has some great birding, and there is birding around the area (Chirripó National Park, Cloud Bridge Nature Reserve, Quetzal National Park, etc). We stayed for two nights.
We then went to Selva Verde Lodge (link is here, ebird.org link here), which is about a 4 hour drive. It is in the lowlands of the Caribbean side. This lodge is on a very large property and has a lot of great birding, as well as excellent spots in the area. We stayed here for two nights.
The last night was spent in San José at the Barceló hotel.
All of the lodges were somewhat 'rustic' – not typical hotels you would find in the cities. I think I describe them in my posts, so I won't do it again here. The exception, of course, is the Barceló Palacio in San José, which is a nice modern hotel with all the amenities. The purpose of our trip was photography, so we were happy with the accommodations and locations. The locations were picked by our guide (Sergio Ulate, link here) together with Father Charlie.